Papamoa Beach Resort: the Perfect Stay in Bay of Plenty NZ
Coffee in hand, I watched the rolling surf as the sun rises over the horizon. There is no better way to start the day, and I did this each morning from my beachfront villa at the Papamoa Beach Resort in the Bay of Plenty, New Zealand. From here, my days only got better. I found a paradise that caters to everyone.
For visitors to New Zealand, Papamoa Beach Resort offers an opportunity to relax or play, as well as the perfect base to explore the Bay of Plenty. Centrally located, yet it feels like worlds away when you are sitting on the endless beach.
Our Beachfront Villa
Our beachfront accommodation comfortably held the four of us. Walking in, we passed through a room with two twin beds, next through the kitchen and past the bathroom, finally into the main living area. Our king bed sits in one corner, but we don't stop to check it out. Our eyes are drawn past it, as well as past our table and lounge area, to the beachfront view visible through floor to ceiling windows and the sliding door.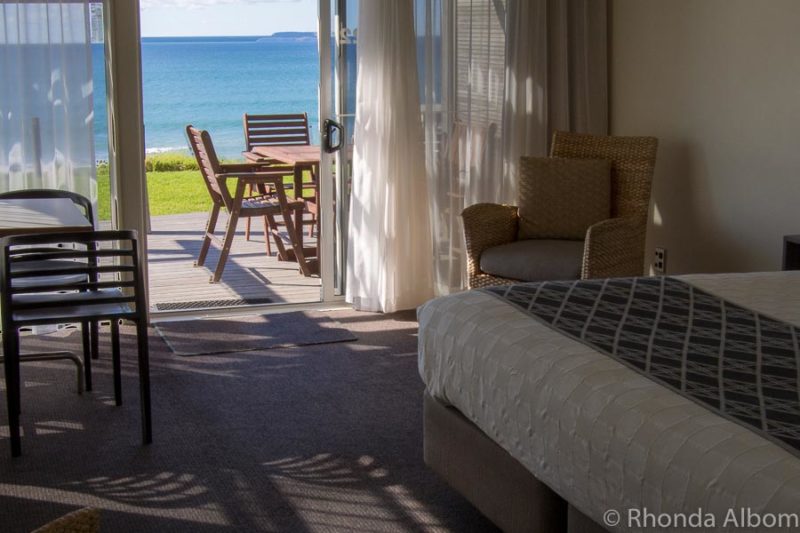 Inside our beachfront villa at Papamoa Beach Resort
Outside we had a second table on our deck, and there is a shared picnic table just beyond that. A short path leads to the beach where the white sand feels warm against my feet and a few children splash in the surf. Mostly I saw miles of empty paradise. It was late autumn and I imagine the cool weather kept some beachgoers at home.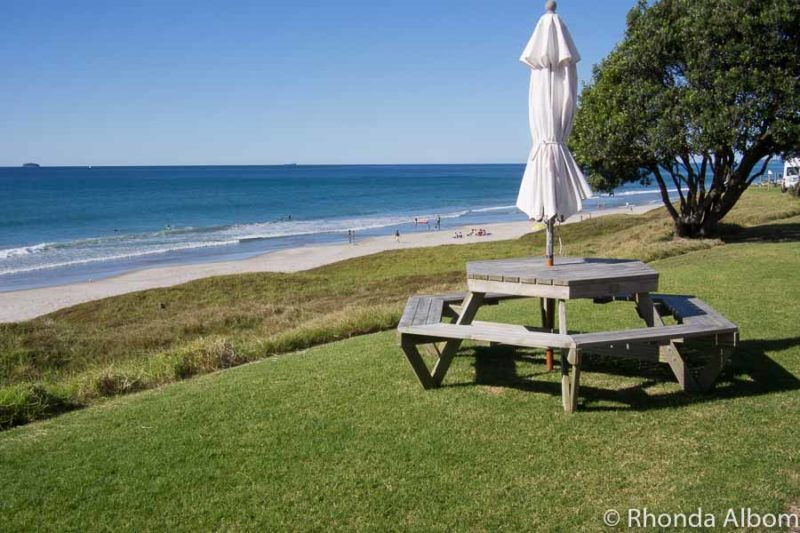 Shared picnic table outside our beach front villa at Papamoa Beach Resort
Being a traditional kiwi style accommodation, we had a kitchen and could make our own meals. We opted to make our breakfast to eat out on the deck and enjoyed dinner at the nearby fun, funky, and family-friendly Papamoa Beach Tavern. There are several restaurants and shopping within walking distance, plus the recommended Bluebiyou Papamoa (the restaurant right next to the resort). Or, we could have used the BBQ next to our unit.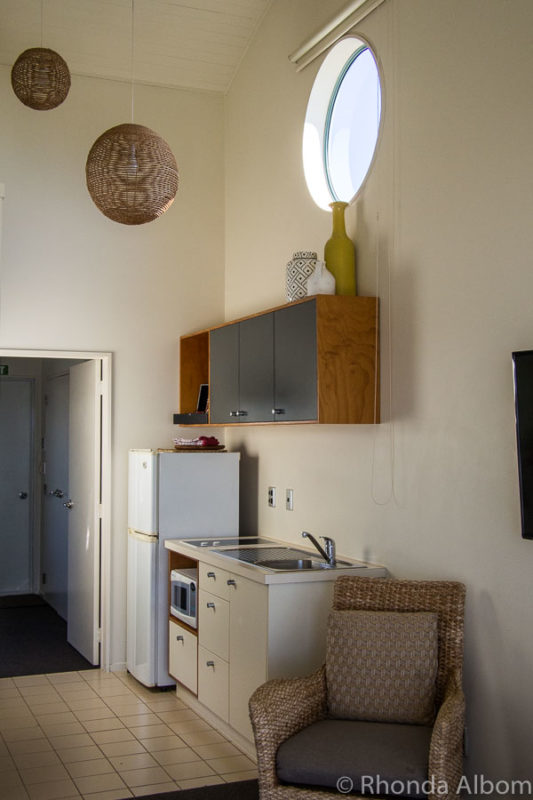 Kitchen inside our beachfront villa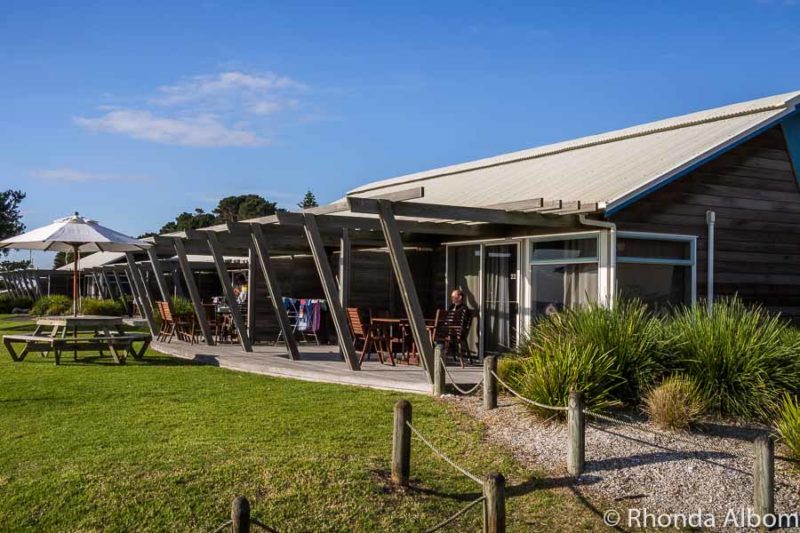 Looking back at our villa and deck table
In the evening we returned to our villa to watch a movie. We put the heat pump on low to take the chill off the air and crawled into bed without the need to turn on the electric blankets. The bed was so comfortable that I fell asleep almost immediately missing the film. I was glad I had set the alarm for just before the sunrise.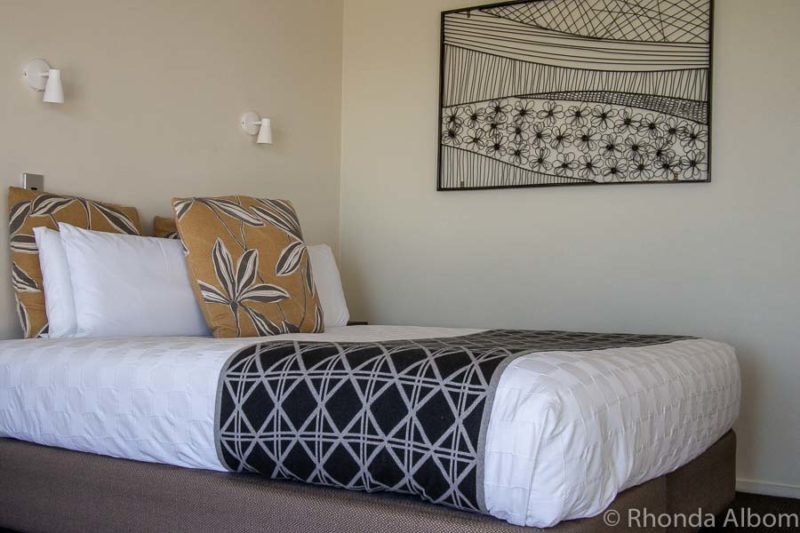 Our king bed inside the villa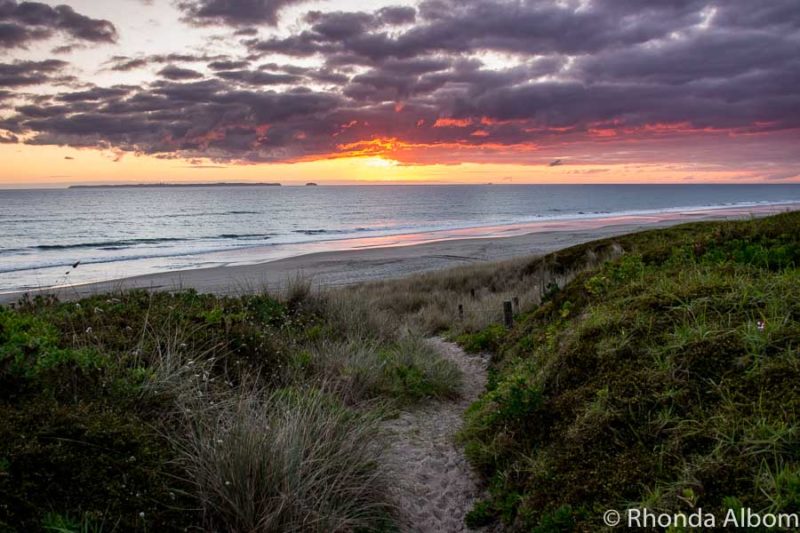 One of the morning sunrises and the path leading from our villa to the beach
Beach Resort Life
Very much a classic New Zealand accommodation, we had everything we needed, and more. There was enough to do at the beach resort that we never had to leave (but we did). The surf patrolled beach offers safer swimming, or you can surf, fish, or just have a walk along the white sands. Aside from ocean activities, we had access to bicycles, a private spa, a library, jumping pillows, a mini tennis court, and of course plenty of play areas for kids.
Some of the things to do in Papamoa Beach Resort include: (Clockwise) a children's play structure; a library; a private moonlit spa (included with our accommodation, but requires booking); the ocean; all age jumping pillows; traditional and fun bicycle rentals.
Papamoa Camping Ground and Other Facilities
In total there are 250 sites including beachfront villas, garden villas, 3-Bedroom units, traditional Kiwi baches (holiday units), cabins, and campsites spread out across 16 acres. We were there during school holidays, and yet it never felt crowded.
Inside the 3-Bedroom garden villa. It holds up to 10 people with one king and 4 bunk beds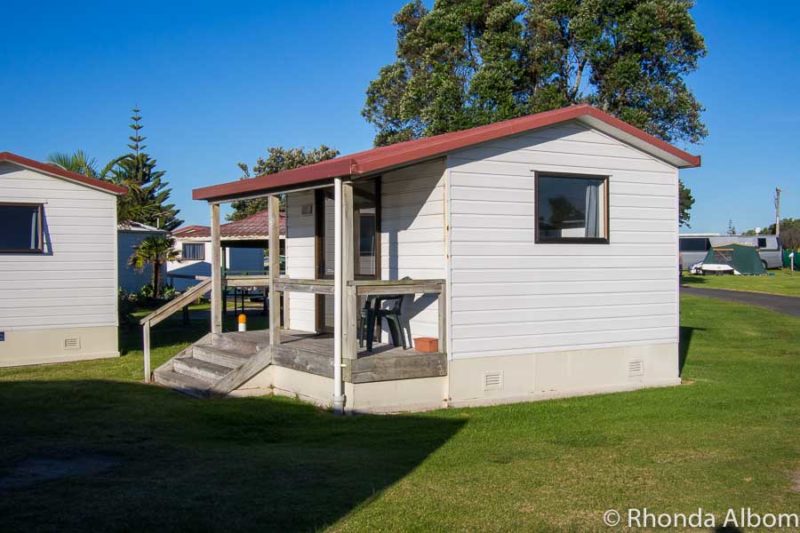 A smaller unit at Papamoa Beach Resort
The camping area is a cross between a Papamoa caravan park and tent camping facility. There are also a fixed number of "Weekenders." These are owned campsites allowing owners to keep their camper there all year but are limited to 100 annual days of use.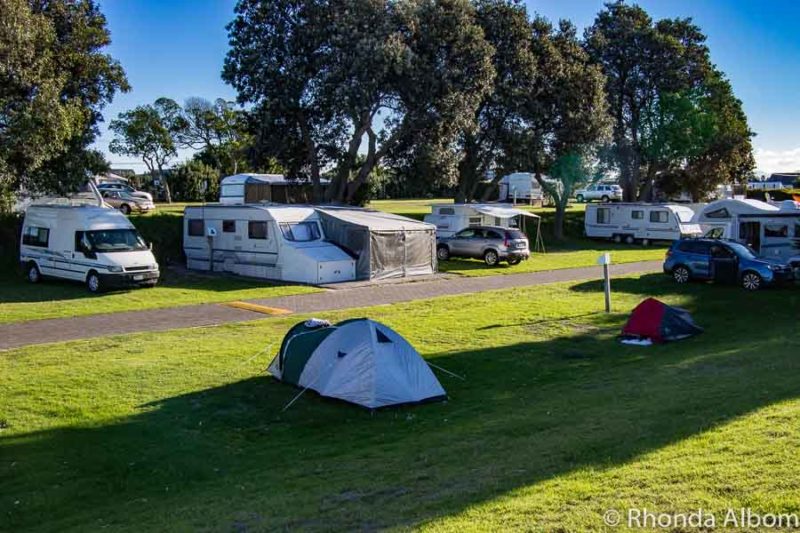 Campsites including tents, campers, and one weekender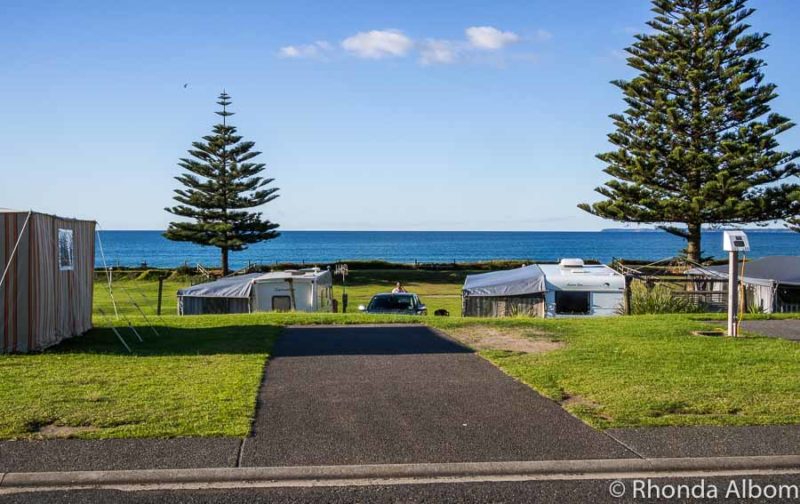 Terraced campsites mean more people can enjoy ocean views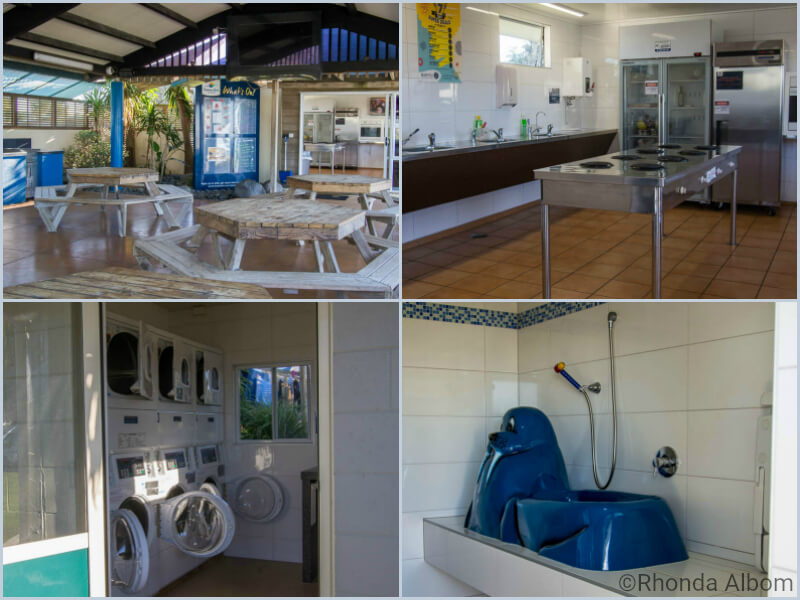 We had facilities in our villa, however, campers share.
Clockwise: An eating area outside the shared kitchen; a spotless shared kitchen; a baby bathtub inside the family bathroom; the laundry room for campers
Papamoa Beach Resort is the Ideal Place for a Conference
As I walked past the conference centre, I couldn't help thinking that Papamoa Beach would be the ideal place for a conference. The perfect mix of work and play. Sunrise, a morning swim, then a few lectures indoors or an afternoon meeting out on the sundeck. Perhaps a lunch break by the beach, a late afternoon spa or even a massage, dinner at a nearby restaurant, and then an evening stroll along the beach.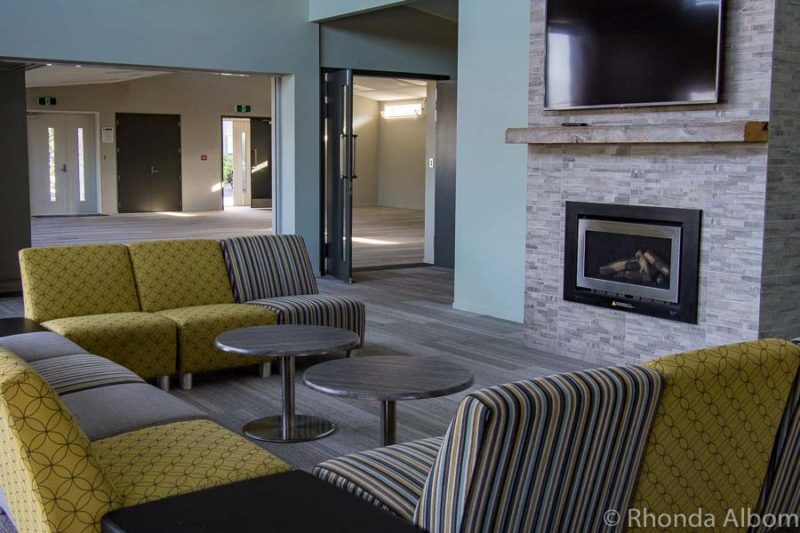 The lounge is one of the three main meeting areas of the Papamoa Beach Resort Conference Centre. The other two are the Motiti Room (seen in the background) and the huge deck
Exploring the Bay of Plenty
Never having been here before, when we first added Bay of Plenty to our North Island New Zealand itinerary we thought only about a Tauranga or Mount Maunganui accommodation. Not wanting to stay in Tauranga city, or get lost amongst the overpriced high rises at Mount Maunganui, we explored options down the beach. Our choice of a Papamoa accommodation is the perfect spot to explore the Bay of Plenty.
Here are our top recommendations (details coming soon), or check with the friendly staff at the resort. There is even a tour desk that can help with bookings.
Check Reviews and Book your stay at Papamoa Beach Resort:
The corner of our deck facing out towards the beach
If you are still unsure as to the best Bay of Plenty accommodation for your visit, the other reviews of Papamoa Beach Resort will surely convince you. Check them on  Booking.com or directly with the resort.
General Information on Papamoa Beach Resort
Papamoa New Zealand is a suburb of Tauranga in the Bay of Plenty located along the east coast of the North Island.
The Papamoa Beach Resort is at 535 Papamoa Beach Road.
Free Wifi is very limited, and payment plans are available for purchasing additional wifi.
There is plenty of parking on site, and one allocated spot for each unit or campsite.
Drive time from Papamoa to Tauranga is 20 minutes, to Mount Maunganui is 15 minutes, to Rotorua 52 minutes, and to Matamata (Hobbiton) 50 minutes.
Sunrise in Papamoa is only three minutes after the sunrise in Gisborne, a city which prides itself on being the first in the world to see the first light each day.
Our first morning's sunrise
Written by: Rhonda Albom
See full article here